MOBILE PHONE BAG
Small Bag
This is another view
This is a another view
Comments: The mobile phone (we call it "telefonino" i.e. "little phone") has became,in Italy and I am sure also in other Western Countries, a essential gadget, also for our children (so we can control them continuosly...). Hence, this little bag can be a welcomed gift for our teen-ager daughter, or, why not , for ourselves. This pattern is meant to join new millenium technology with that '70 look that now is very vogue (like crochet is!).
The pattern should be adapted to the size of your phone, but it is very easy and, I hope, good looking. I used for it the same material I used for my ribbonbag, but you can substitute it with a strong cotton yarn. Furthermore, the bag will be stronger if you line it with cotton fabric.

Size : 4 x 7 inches (10 x 18 cm) closed; this is good for my NEC mobile phone, but you can vary it.
Material :Cotton Yarn Ribbon (we call it "fettuccia", but I could not find an English translation in my vocabulary), color black, hook 5 (US H); a metallic big button: you may want to give a look to my virtual store if you need materials.
Stitches : sc, ch
Difficulty: easy (a little experience in sewing is required, if you want the bag has a good appearance!)

Directions
First, measure your phone: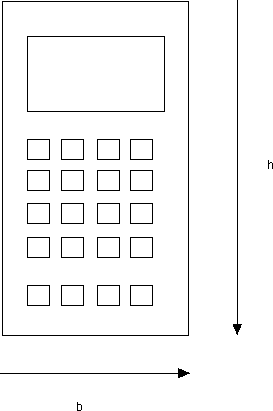 b=base size (inches), h=height size (inches)
Back
Start with b+1 inches chain. (For example, if you phone is 3" wide, start with a 4" long chain).
Work in single crochet rows until you reach h+1/2 inches. Cut.
Front
Start with b+1 inches chain.
Work in single crochet rows until you reach h+1/2 inches. Do not cut thread but continue to work in sc rows decreasing 2 stiches every two rows:
1. (sc dec in first two scs), sc,.., sc, (sc dec in last two scs)
2. sc in every sc
When you reach 1 1/2 inches from top of rectangle, crochet the buttonhole in this way. Suppose you have still x sts:
1.(sc in ea sc) x/2 -1 times, 3 ch , sk 3 scs, sc in remainining sts.
2. sc in ea sc, 3 sc in sc lp.
Example: you have still 12 scs in last row:
1. (sc in ea sc) 5 times, 3 ck , sk 3 sc, sc in rem 4 sc
Continue with decrementing until you have only 1 stitch (or 2, if you started with an even number of stitches), cut, weave in ends.
Joining
Put back and front back-to-back, join them on 3 sides with a uniformely distributed number of sc, inserting hook in both.
Border
Crocher a border along the joined sides and along the closing piece:
1.sc in next sc, 2 ch, sk a sc. Cut weave in ends
Handle
Work 3 chains, each 30" long . Interweave the chains in a plait , make two little knots at the ends, sew the ends to the bag, in a hidden way.
Fringes
Wind the ribbon 80 times using a book or a videotape box, cut the ribbon on a side. You will have 80 scraps. Helping you with a hook , insert 4 threads in each 2 ch loop on the base, and knots them. Insert 2 threads in each 2-ch loop on the sides, too, and knot them. If it is necessary clip the threads with a scissor to the same lenght.
Sew the botton on front correspondent to buttonhole.
Variations
You can crochet a belt-carrier instead of a handle, so the bag can be fixed to your jeans belt. Crochet a small square of scs, and sew it on the back of the bag leving vertical sides opened.
For a more sober look, do not work the fringe border, but crochet a crab stitch (sc worked from right to left) along sides. Substitute botton with a small square of iron-on Velcro (and do not crochet the buttonhole!)
N.B.
Always substitute (also if not explicitly said) first st in a row as follows:

first sc with 1 ch, sc;
first hdc with 2 ch;
first dc with 3 ch;
first tr with 4 ch...and so on;

When you read "sl st to <location>", where the location is not immediately contiguous to last st, this means of course "an appropriate number of sl sts for reaching <location>".
Also if I do not specify it, if you lasted prev row on a st (say st1), while you must start next row in another st (say st2), make an appropriate number of sl sts to reach st2.

If you like this pattern, please click on one of my Sponsors link; this will encourage me to continue maintaining my site!

Pattern Sponsor:Buy your crochet necessities at Joann.com:
---
This pattern has been seen by visitors from 02-02-2007
---
©Patrizia Pisani, 1998-2007
Last updated on