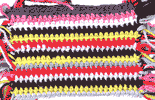 MINI BAG
Small Bag
This is another view
Comments: An easy small bag that will let you use a lot of yarn scraps, making happy that little child of your heart!

Size : 5 1/2 x 8 inches (14 x 20 cm) fringes excluded
Material :Scraps of Worsted Weight Yarn in many colors, hook 5 (US H);a iron-on velcro strip: you may want to give a look to my virtual store if you need materials.
Stitches :ch, sc
Difficulty: very easy

Directions
Start with 26 ch.
Work with sc rows for 16", changing color at ea row.
Fold the obtained rectangles in two. Join the lateral sides with sc stitches, inserting hk in both. Sew (or iron-on) a Velcro strip inside the opening. If you are a sewing expert, you can sew a zipper instead of Velcro.
Fringe: Cut many 4" strands of each color; helping with the hook, insert the strands in lateral scs and knots the in fringes. If necessary, clip to same lenght using scissors.
Handle
Work 3 chains, each about 30" long . Interweave the chains in a plait , make two little knots at the ends, sew the ends to the bag, in a hidden way. The handle should be long about 22" for a child.
If you want, linen the bag, then fix all the ends.
N.B.
Always substitute (also if not explicitly said) first st in a row as follows:

first sc with 1 ch, sc;
first hdc with 2 ch;
first dc with 3 ch;
first tr with 4 ch...and so on;

When you read "sl st to <location>", where the location is not immediately contiguous to last st, this means of course "an appropriate number of sl sts for reaching <location>".
Also if I do not specify it, if you lasted prev row on a st (say st1), while you must start next row in another st (say st2), make an appropriate number of sl sts to reach st2.

If you like this pattern, please click on one of my Sponsors link; this will encourage me to continue maintaining my site!

Pattern Sponsor:Buy your crochet necessities at Joann.com:
---
This pattern has been seen by visitors from 02-02-2007
---
©Patrizia Pisani, 1998-2007
Last updated on