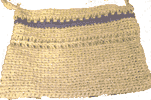 CORD BAG
Shopping Bag
Here is another view, and yet another one
Comments: Very 'vintage' pattern, particularly because of the material used: common twine cord, that used for cooking. Cord is very hard to crochet (I ensure you will have some hand aches before finishing this bag!) and does not have a good smell, so wash the item gently before using it. But the results are really impressive, for strongness, rigidity and nice look. Give it a try!

Size : 10 x 13 inches (25 x 33 cm)
Material :About 300 grs of common cooking or packing cord,, hook 5 (US H), some scraps of Worsted Weight Cotton Yarn, color blue; 2 metal rings (those used for keys); you may want to give a look to my virtual store if you need materials.
Stitches :dc, sc, ch, dcl=2-dc cluster=crochet a dc not closed on first st, a dc not closed on second st, close the dc together
Difficulty: easy (if you do not fear hand ache)

Directions
Front and back (crochet 2 pieces)
Start with 45 ch.
1. sc in ea ch; 3 ch, turn
2. dc in ea sc; 3 ch, turn.
3. *dcl in next 2 dcs, 1 ch*; Repeat along the row. Cut cord, joining cotton yarn
4. 2 dc in ea dcl, skipping chs; 1 ch, turn
5. sc in ea dc. Cut yarn, join cord.
6.-7 dc in ea st; 3 ch, turn
8. *dcl in next 2 dcs, 1 ch*; Repeat along the row. 3 ch, turn
9. 2 dc in ea dcl;3 ch, turn
10-24 dc in ea dc; 3 ch, turn
At the end of Row 24 do not crochet the 3 chains, but cut yarn and fix end
.Joining
Put back to front with right side together. join them with sl st, insering hook in both pieces. Turn the bag on right side
Handle
Insert rings in the corner stitches of opened side.Join cord to one of the ring with 4 sl st; turn, *sc in ea sl st,1 ch turn*; Repeat * to * until you reach the desired length (my sample has a 30" lenght), in the last row, crochet the scs inserting hook also in second ring ( pay attention that the tie is not turned). Cut, fix ends
Optional: you can put a piece of Velcro or a button to close the bag.
N.B.
Always substitute (also if not explicitly said) first st in a row as follows:

first sc with 1 ch, sc;
first hdc with 2 ch;
first dc with 3 ch;
first tr with 4 ch...and so on;

When you read "sl st to <location>", where the location is not immediately contiguous to last st, this means of course "an appropriate number of sl sts for reaching <location>".
Also if I do not specify it, if you lasted prev row on a st (say st1), while you must start next row in another st (say st2), make an appropriate number of sl sts to reach st2.

If you like this pattern, please click on one of my Sponsors link; this will encourage me to continue maintaining my site!

Pattern Sponsor:Buy your crochet necessities at Joann.com:
---
This pattern has been seen by visitors from 02-02-2007
---
©Patrizia Pisani, 1998-2007
Last updated on